COGSCI COLLOQUIA: For abstracts and more information about The Cognitive Science Program's Colloquium Series, please visit our Colloquia webpage.
10/6 – Barbara Landau, Professor of Cognitive Science at Johns Hopkins will give a lecture on:
Origins and development of spatial language: Some complexities
11/3 – David Rand, Associate Professor of Psychology, Economics, Cognitive Science and Management at Yale University will present a lecture on:
The Cognitive Science of Fake News
12/1 – Philip Corlett, Associate Research Scientist at Yale: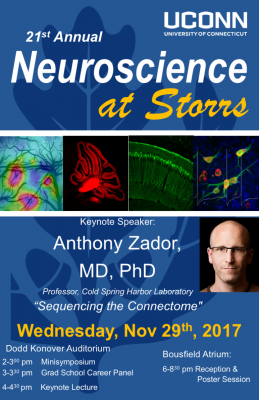 Neuroscience in Storrs Conference:
Date: Wednesday, November 29th from 2:00-8:30 pm
University of Connecticut, Storrs Campus
Konover Auditorium, Dodd Center Building
2-3:30pm: Graduate School Career Workshop
4-5:30pm: Keynote Lecture, Tony Zador, MD, PhD, Cold Spring Harbor Laboratory, Title, "Sequencing the Connectome"
Atrium, Bousfield Buildin
g
5:30-8:30pm: Reception and Poster session
Conference Website (Search for Neuroscience at Storrs)
LANGFEST:
The Language Fest is a University-wide research conference that brings together the full community of language researchers at UConn, including undergraduates, graduate students, and faculty, for a day of sharing results, ideas, methodologies and fostering future interdisciplinary collaborations. To learn more about this annual event please visit the LangFest webpage.
Cognitive Neuroscience Society Annual Meeting; Boston – March 24-27, 2018
Movement and Cognition Conference; Harvard University, July 27-29, 2018