COGSCI COLLOQUIA: For abstracts and more information about The Cognitive Science Program's Colloquium Series, please visit our Colloquia webpage.
10/6 – Barbara Landau, Professor of Cognitive Science at Johns Hopkins will give a lecture on:
Origins and development of spatial language: Some complexities
11/3 – David Rand, Associate Professor of Psychology, Economics, Cognitive Science and Management at Yale University will present a lecture on:
The Cognitive Science of Fake News
12/1 – Philip Corlett, Associate Research Scientist at Yale:
Psychosis as a window on perception and belief
The Psychological Sciences Colloquium Series presents:
11/15: Gary Lupyan, Department of Psychology, University of Wisconsin, Madison
3:30pm in BOUS A106
Talk: From perception to symbolic thought: how language augments human cognition
It is a common refrain that language is one of the defining traits of our species. Yet for all its claimed importance, most cognitive scientists work under the assumption that language, while important for communicating pre-existing thoughts, plays a minor if any role in their construction. I will argue that this view is mistaken and that words play a much more central role in creating meaning than is generally acknowledged. Using a wide range of empirical evidence, I will show that even in linguistically savvy adults, the use of language actively modulates "nonverbal" mental processing from low-level perception to higher-level reasoning. On the presented view, some of the unique aspects of human cognition stem from the power of words to flexibly transform mental representations into more categorical states. This view has immediate consequences for understanding the cognitive consequences of learning and using language and for questions concerning linguistic relativity.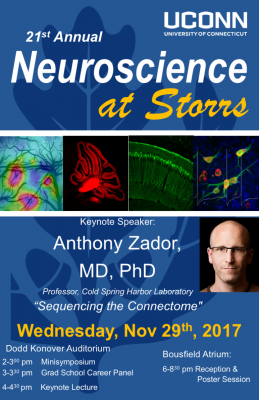 Neuroscience in Storrs Conference:
Date: Wednesday, November 29th from 2:00-8:30 pm
University of Connecticut, Storrs Campus
Konover Auditorium, Dodd Center Building
2-3:30pm: Graduate School Career Workshop
4-5:30pm: Keynote Lecture, Tony Zador, MD, PhD, Cold Spring Harbor Laboratory, Title, "Sequencing the Connectome"
Atrium, Bousfield Buildin
g
5:30-8:30pm: Reception and Poster session
Conference Website (Search for Neuroscience at Storrs)
12/6: Science and Story-The Role of Narrative in Modern Research
Tim Miller – Digital Media & Design, University of Connecticut
Wednesday, 6 December, 2017, 3:30pm
Konover Auditorium, Dodd Center
Reception to follow
Sponsored by the CT Institute for the Brain and Cognitive Sciences (IBACS) and the training program in Science of Learning & the Art of Communication (SLAC)
In today's crowded and increasingly competitive research environment, it is more important than ever for scientists to take an active role in communicating the importance of their work to as broad an audience as possible. The ability to recruit collaborators, attract funding, and effectively report results requires clear, concise communication. As emerging research challenges focus on fundamentally transdisciplinary questions, the ability to communicate among a diverse cohort is becoming an integral component of the conduct of research within laboratories, not just a supplementary activity that occurs outside of them. This talk addresses some of the fundamental principles that can guide effective communication, and introduces a conceptual framework that can serve as a scaffold for communication strategies of any scope.
LANGFEST:
The Language Fest is a University-wide research conference that brings together the full community of language researchers at UConn, including undergraduates, graduate students, and faculty, for a day of sharing results, ideas, methodologies and fostering future interdisciplinary collaborations. To learn more about this annual event please visit the LangFest webpage.
Cognitive Neuroscience Society Annual Meeting; Boston – March 24-27, 2018
Movement and Cognition Conference; Harvard University, July 27-29, 2018