The Cognitive Science and SLAC programs invite you to a talk on 12/16!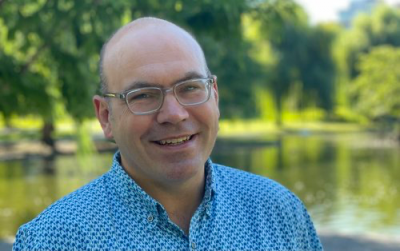 Speaker: Dr. JonathanPeelle, an Associate Professor from theCenter for Cognitive and Brain Health at Northeastern University.
Time & Location: The talk will begin at 4PM, Friday December 16th, 2022, in the Dodd Center Konover Auditorium. Light refreshments will be available at 3:15PM. Please RSVP in advance. Virtual Attendance options are provided in the form. 
Talk Title:"Cognitive consequences of acoustic challenge during spoken communication"
Abstract: Everyday communication is full of acoustic challenges, including background noise, competing talkers, or assistive devices. How do listeners understand speech in the midst of this noise? Evidence from multiple sources is consistent with a shared resource framework of speech comprehension in which domain-general cognitive processes supported by discrete regions of frontal cortex are required for successfully understanding speech. These increased cognitive demands can be captured using behavior, pupillometry, and functional brain imaging. Although frequently studied in the context of hearing loss, these principles have broader implications for our understanding of how auditory and cognitive factors interact during spoken language comprehension.
Bio: Jonathan is a cognitive neuroscientist who studies the neuroscience of human communication, aging, and hearing impairment at the Center for Cognitive and Brain Health at Northeastern University. He also has two podcasts: "The Brain Made Plain" where he interviews cognitive neuroscientists about their work, and "The Juice and the Squeeze" in which he and a co-host talk about different aspects of being in academia.
---